Hi Friends,
"Every so often, one needs to be Ephesian-ed." I heard this from a speaker at a biblical conference I recently attended. I admit a mild gasp escaped my lips. Just the week before, I'd decided to study Ephesians this summer. Already delighting in the prospect of reaping this Pauline epistle's rich blessings, the idea of being "Ephesian-ed" stirred even more excitement.
In light of my planned journey through this book, I thought I'd sporadically (don't want to tie myself down) share my thoughts with you. This isn't meant to be a scholarly, commentary-ish series, just passing along the encouragement these God-breathed words give to me. (I do promise to double-check my work to make sure I stay biblically accurate.)
Would you like to come along? Let's get started.
For this post, I'll write in the Bible study style I shared here.
Paul, an apostle of Christ Jesus by the will of God. (Ephesians 1:1a ESV)
Paul The one you changed, forgave, trusted, and used, despite his wicked sins, persecuting you, by persecuting your people. Once Saul, the prince of sinners; now, Paul, whom you met on the road to Damascus and freed from his blindness while blinding him. The one who stuttered and struggled, yet you used him to preach your gospel to the world.
It's amazing how even the name Paul brings such glory to your Name, and comfort to me. Thank you.
an apostle Sent one, chosen to feed your sheep, given to your bride to care for her.
of Ownership. Paul is not his own, but belongs to someone else.
Christ Jesus All the thoughts, emotions, facts, perceptions–even, to be honest, doubts and fears–that come to mind with the mention of your name. You, the king of all who came as a servant and suffered a criminal's death, you are Paul's Lord and mine. You chose Paul out of the pit of his sin. You chose me.
by the will of God It wasn't just one person of the trinity who chose Paul. No divisions lie in the godhead as if the Father didn't want Paul, but Jesus convinced him. Perfectly and eternally united yet distinct (it's a mystery!), God the Father, God the Son, and God the Holy Spirit sought the man on that road, all were present as Jesus asked the question, "Why are you persecuting me?" and all delighted to transform him from an enemy to an adopted son.
I love to ask this question when studying Scripture, Who am I in this passage? And here, the answer showers me with joy. I'm Paul, the prince of sinners who, because of grace alone, is loved, pursued, given new life, forgiven, and transformed.
Oh, Ephesians, we've only just begun.
Remember, he loves you like there's no tomorrow.
Ocieanna
Not long ago a cardiac arrest brought my heart to life. I wrote about it in this memoir. You can receive three chapters FREE by clicking here!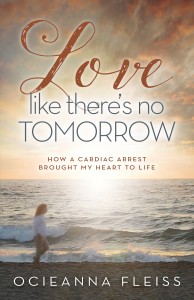 Ephesus Photo credit