Hello friends,
*Note: I wrote this post a few weeks ago, before the recent tragedies hit. Now that we are grieving in so many ways, it seems even more appropriate to run to the Psalms of Lament for comfort and hope.
I've mentioned before that I've had experience with depression, mostly in several people I love deeply–so deep, down to the morrow. Recently, the darkness that attacks my loved ones also battered my walls, reaching its ugly talons over the parapets of safety, pulling me down with them.
Depression doesn't just affect the diagnosed, but the ones who love them too.
Fraught with torrential tears, physical aching, and hopelessness, I reached out to my pastor. "Have you tried reading the Psalms of Lament?" he said. "They might help all of you."
Of course I'd read these psalms before–the ones in which the psalmist unleashes his rough emotions to God with abandon.
These two lines. Oh, how I felt this way!
I am shut in so that I cannot escape;
my eye grows dim through sorrow. (Psalm 88:8b-9a)
As I meditated on Psalm 88, the comfort that came surprised me. The inability to express lurking, flooding pain aggravates depression. And here was David, using creative, darkly poetic language to express my heartache.
And–how amazing is this?–these very complaints, the groaning, the weeping, the mourning, were God breathed. Ordained by God himself, as if to say, "This is how you can cry out to me. It's okay. I can take it. Weep, child. Let your pain, even your anger, out, and I will heal you."
Yes, so incredibly healing.
A Heart Set Free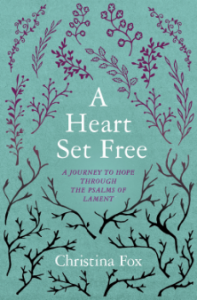 During this time, I stumbled across a newly released book. Check out this title.
A Heart Set Free: A Journey to Hope through the Psalms of Lament.
God's providence rocks, doesn't it! So I requested a review copy and dove in.
I learned so much from author Christina Fox's careful walk through these psalms and how they affect our feelings. She progresses from a discussion of unwelcome emotions that hold us hostage to how the Psalms of Lament "help us take that raw emotion and shape it for God's glory."
Additionally, Christina reminds readers to not end with the pouring out of raw emotions, but to follow the psalmists' example by: pondering God's past faithfulness, confessing our sins, speaking truth to ourselves, and focusing on the character of God.
Yes! I love the specific ways these psalms impact my life.
Finally, she encouraged us to do what I encourage as well, create our own laments to our faithful Jesus who loves us. (1)
I still live with depressed people, but at this moment we seem to be between storms. Slowly peace sneaks in, even joy. How miraculous, for in the midst of the gloom, it seemed light would never return.
Yet, also in the Psalms of Lament, we find that it always does.
Why are you cast down, O my soul, and why are you in turmoil within me? Hope in God; for I shall again praise him, my salvation and my God. (Psalm 43:5 ESV)
Here are ten Psalms of Lament that encourage me: 12, 22, 32, 42, 43, 79, 80, 88, 140, 142.
How have the Psalms of Lament comforted you? Would you share? I'm sure it would bless others!
Remember, He loves you like there's no tomorrow.
Ocieanna
PS God used this sermon by John Piper to help pull me out of the pit.
(1) Check out the author's blog for a correction.