Mother's Day is only a few days away. Have you planned something for your mom or wife?
In order to help families figure out how to utilize the opportunity Mother's Day gives to really bless your poor, tired mama, I took a very unscientific pole, asking moms what makes them feel the most loved. (Moms, you might want to share this with your family.)
Help!
The number one answer I got had to do with HELP! Are you surprised? I wasn't kidding when I said we mamas are tired.
Some ideas in the HELP zone.
Meals: Oh, man, just give us a break from planning and cooking–what if you made your mom/wife meals the whole DAY! *Giddy laughter and hand clapping
Driving: One mom said she feels loved when her husband offers to do some of the dropping off and picking up of the busy kids. We spend a LOT of our time driving around, don't we? My husband rocks at this. If he can possibly take them, he does. This gives me time to rest (if my chronic low energy needs me to) or to get done other stuff piling up on my to-do list. Husbands, a specific plan to take this responsibility a couple times Mother's Day week would give you many rewards.
Dishes and Bonding: My sweet friend Susan said this:
For me, I feel the most loved when my loved ones offer to help with the dishes. They won't listen to me when I say, 'Oh just leave them,' and take over to assist me. We have that extra time doing dishes together, and a little more time to reconnect with one another, catching up on what's happening in their lives, what the grandsons are up to, etc. I just love this time for bonding, whether it's with my husband, or my children, it is extra special?
I love how she combines help with time together. Great idea!
Unsolicited Cleaning: When kids and husband clean the whole house without any help from mom and without being asked. That would really scream, "I love you!" wouldn't it? But even if you can't do the whole house, just clean what you can and she will be blessed! Thanks, Sharon, for this idea.
Unsolicited Help of Any Kind: Natalee's boy unloaded groceries without being asked. The not having to ask is such a relief to moms. What are some other ways you can help without being asked?
Time to Rest: Crystal shared this. I can SO relate.
Time to rest, be it some time to sleep, read, color, as long as it is something that lets me not feel needed that second. And as part of that, knowing that things aren't falling apart loading me with extra chores while I rest.
Other Ways to Help
Affection: Melanie suggested hugs and kisses. Of course! My boy Christian, lover of helicopters and sword fighting, martial arts, wrestling, football, the methods and strategies of war, and everything else that's full of energy and toughness melts my mama heart when he also comes to me while I'm resting and lays his head on my chest, whispers, "I love you, Mama." Yeah, that makes me feel loved. A bucketful of extra hugs and sweeties on Mother's Day–she'll love that. 
Gifts: As someone with gift giving as her love language, this one is from me.
The number one thing that would make this mama squeal with joy would be…wait for it…STARBUCKS! Seriously, just make a Starbucks run, pick up a grande, half-decaf (because heart issues), mocha and I'm a happy mama. (Are you seeing this Michael?)
Other gifts ideas:
Hand-drawn cards from kids–we really do love these.
Flowers–nothing fancy or expensive, just something to brighten up the house.
Books–You can never go wrong with a good book.
Something to do with her hobby–for me, a set of pencils from the Dollar Store, or a new notebook, or set of 3×5 cards. What does your mom/wife like to do? Think of something related and she'll appreciate your thoughtfulness.
What does she like? This also has to do with thoughtfulness. Take a minute and just think about what she enjoys. I like socks a lot. A cute pair of socks makes me feel loved because they remembered something about me and took the time to get me something that they knew I would enjoy. Does she like clothes, shoes, cheese, chocolate, wine…
The main thing to remember is the gift doesn't have to be expensive.
Most Important
Remember, your mom/wife loves you so much. She pours out her heart and her life freely to you. Love her like there's no tomorrow by giving her a day filled with the things that bless her most–even the little things mean so much!
Wow! This is a pretty long post. I hope you gleaned some ideas on how to make your moms special day full of love.
And remember, God loves you like there's no tomorrow.
Ocieanna
What other things make YOU feel loved? Share in the comments. I'd love to hear.
Love Like There's No Tomorrow really is the perfect gift for moms. So much shares my mom heart. You can still grab the first three chapters FREE by clicking here.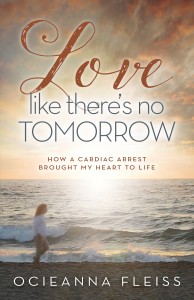 "I'd diminished my mom job because I believed I fell short. Because how could doing dishes or caring for a scuffed knee or all my other chores matter? That night I realized I was much more important than I thought. In fact, being a mom wasn't a job at all. It was a calling … Knowing this poured value on every aspect of my mom identity."